World Inline Cup
The latest Planet news about the World Inline Cup listed in reverse order of publication: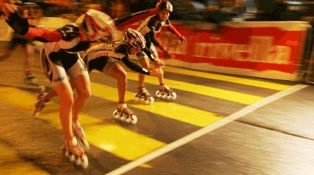 photo: WIC
Rollerblade Women Sweep Biel


The Rollerblade women made it two in a row collecting all the medals (gold, silver and bronze) in today's rain-soaked Biel World Inline Cup in Switzerland. Powerslide's Alexis Contin of France won the men's race. Shane Dobbin (Rollerblade) and Pier Davide Romani (MMCmicro Salomon) were right behind him. (Go to results.) (May 13, 2006)
World Cup Returns to Biel


The World Inline Cup is moving to Switzerland this weekend. And apparently, so is the rain. Showers are forecast tomorrow in Biel, site of the fifth stage of the 2006 race series. Some 2000 skaters are expected for the 36K race through the city best known for clocks. Last year, 10,000 spectators lined the road course. (Go to the Planet's World Cup coverage and come back tomorrow for a story about the race.) (May 12, 2006)
Di Eugenio, Presti Win in Rennes


World Cup newcomer Simona Di Eugenio escaped with four others and won the sprint in today's Rennes World Inline Cup in France. MMCmicro Salomon's Massimiliano Presti made it two for four with a victory in the rain-soaked men's race. (Go to the Planet story.) (May 7, 2006)
Skatin' Laps in Rennes

World Cup racers will be skating around (and around) downtown Rennes, France, on Sunday. The men's race is 18 laps of the 2.9 kilometer road course. (Total distance is 52.2K, or 32.4 miles.) The women's race is 15 laps for a distance of 45.5K or 28.3 miles. (Look for race coverage Sunday morning on the Planet.) (May 5, 2006)
World Cup: All Shook Up!


Saturday's Team Time Trial in Basel shook things up in the World Inline Cup. Athleticum Rollerblade's win vaulted it into second place in the men's team rankings. Formerly, one of the World Cup's "B" teams, Athleticum is now within striking distance of first-place MMCmicro Salomon. (Go to World Cup rankings.) (May 2, 2006)
Upset in Basel!


Underdog Athleticum Rollerblade upset the big boys in today's Basel World Inline Cup in Switzerland with a dominating performance that added drama to the World Cup's first team time trial. (Go to the Planet story.) (April 29, 2006)
World Inline Cup Tries a New Format


In an effort to improve, while adapting to the requirements of a twisting, narrow road course, the World Inline Cup is trying something new on Saturday: a team time trial with as many as 2500 skaters. (Go to the Planet preview of the Basel World Inline Cup.) (April 27, 2006)
Finster, Barbotin Win World Cup in Paris


Salomon's Nathalie Barbotin went on a solo breakaway to win today's Val d'Europe marathon in Paris. In the men's race, Australian Danny Finster marked his return to World Cup racing with his first-ever win. (Go to Planet story.) (April 22, 2006)
Jessica Smith Talks Seoul and the Olympics


Just back from Korea, where she won the Seoul World Inline Cup, Hyper's Jessica Smith talks about the race, her winning hawk and ... what you do next when you've already won all the marbles in the inline world. (Go the Planet podcast with Jessica Smith.) (April 13, 2006)
Jessica Smith, Max Presti Win in Korea


Skating solo, without the help of teammates, Hyper's Jessica Smith sprinted through the women's pack with about 300 meters left in the race and claimed a narrow victory in today's Seoul World Inline Cup in South Korea. "It feels really good," she told the Planet. In the men's race, Salomon Massimiliano Presti caught Rollerblade's Jorge Botero in the final meters for the win. (Go to the Seoul coverage.) (April 9, 2006)
Salomon Goes for the Win

- Salomon is serious about winning the World Inline Cup this year. The team it announced today is the strongest (at least on paper) that anyone has put together in years. Topping its roster are the two top WIC skaters from last year. Rollerblade may have a hard time keeping up. (Go to the Planet story.) (Jan. 13, 2006)
Salomon Partners With Bont, Hyper; Dumps Supersonic - The new name

of Salomon's racing team is a mouthful: the MMCmicro Salomon World Team. The "MMCmicro" is shorthand for the team's new cosponsor: the MultiMediaCard Association. ... Salomon has yet to unveil the roster for the new team. But it revealed today that Bont will be supplying the team's boots and Hyper, the wheels. Apparently, Salomon has ended its relationship with the wheel maker Supersonic, which was founded by former Salomon team members. (Go to Salomon's announcement.) (Jan. 6, 2006)
Memory Card Group Signs on as Sponsor of Salomon World Cup Team - The

MultiMediaCard Association (MMCA) has signed on as sponsor of Salomon's World Inline Cup team. The association sets standards for memory cards used in cell phones and other mobile devices. "There's a lot in common between our memory cards and Salomon's inline skating team, including speed, performance, dependability and that indefinable 'coolness' factor," said MMCA chair Yves Leonard. So far, there has been no word on whether Saab will continue to sponsor the team in 2006. (Go to Salomon press release.) (Dec. 15, 2005)