Inline Marathoning > Advanced Skills
Marathon Training and Racing for the Advanced Competitor
Part 2: Wanna Race Fast? ... Train Fast
By Barry Publow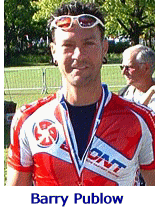 One of the most profound misconceptions in training is the notion that skating lots of miles will improve your speed. I'm sorry to disappoint all you mega-mileage freaks, but skating a ton of miles won't make you faster.
That's not to say that it's not good for you. Piling on the miles will burn calories, improve your cardiovascular performance, and elevate your relative muscular endurance. But these are NOT the things that allow you to go fast over a distance of 26 miles! The only way to race fast is to train fast, and this is where interval and "fartlek" training come into play.
Most skaters know what interval training is. But few understand the science behind it. As a result, they don't know how to adapt it to the events they are preparing for. They do the same intervals whether they are preparing for a 10K or a marathon. And that's simply wrong.
Here are some rules to keep in mind:
No. 1
If you are fit and can comfortably skate the distance of your upcoming race, you do not need to increase your weekly mileage by more than about 15 percent.
No. 2
In preparing for a race, do a long skate once a week. This skate should be about 80-110 percent of your race distance. (So, therefore, if you are preparing for a marathon, you should do one skate a week of 20-28 miles.)
No. 3
Twice a week, do hard interval workouts. (These sessions will be the primary mechanism to make you fast!)
No. 4
At least once a week, do a "fartlek" workout of roughly half the marathon distance. (Fartlek training consist of bursts of intense activity alternated with periods of less strenuous effort.)
No. 5
Give yourself two days of rest each week, which only leaves one day of the week unaccounted for. On that day, give yourself an easy-to-moderate recovery workout.
No. 6
Follow this weekly training cycle until 7-10 days before your race. At that point, you should "peak and taper": reduce volume while maintaining intensity.
Go to:
Part 1: Marathon Training for Advanced Skaters
Part 2: Want to race fast? ... train fast!
Part 3: Interval training for marathon skaters
Part 4: Maximizing Your Starts and Resting While You Race
Related reading:
• Advanced Skills for Inline Skaters.
• Beginner's guide to outdoor racing.
(Copyright 2006 Barry Publow)
(Barry Publow is coach of the Canadian national inline speed skating team and a former national champion. He is the author of Speed on Skates and an expert on sport-specific technique, biomechanics and training application. At his Breakaway SpeedCamps, he has shared his knowledge of skating with hundreds of skaters in Canada, the United States and Europe.)
Related reading:
• Advanced Skills for Inline Skaters.