Racing News
Long Beach Marathon Still on Pace to Top 1000 Skaters
Skaters Will Have New Finish Line Close to Post-Event Festivities
By Robert "Just the Factoids" Burnson
The number of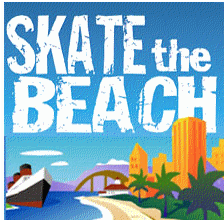 skaters signing up for the suddenly reinvigorated Long Beach Inline Marathon is still on track to top a thousand.
"Registration is still holding strong at about double last year's pace," said inline race director Mike Schaefer.
Schaefer prefers not to reveal the exact number of skaters who have signed up so far. But he said that at the current rate, the number will top 1000 by race day, Oct. 16th.
Last year, the race drew about 600 skaters.
Rally Around the Beach
It appears that skaters are rallying around the marathon, which was threatened with extinction early this year due to declining numbers.
Of those registered so far, 40 percent did not skate in the race last year, Schaefer said.
"We are seeing first-time Long Beach skaters signing up and veteran Long Beach skaters coming back after missing the '04 race."
Officials at International City Racing, which puts on the multi-sport event, have decided to move the finish line for skaters.
This year it will be on Shoreline Drive, near the starting line, rather than on Ocean Boulevard.
Easy Party Access
It was moved so that skaters would finish near the Finish Line Festival, where awards are handed out and the after-race party is held.
"We received complaints last year that many skaters were not even aware of all the post-race entertainment because the inline finish line was so far removed from the festivities," Schaefer said.
Cyclists will also finish on Shoreline Drive. But their finish line will be on the other side of the street, separated from the skaters by a median.
Aside from the finish line, the course -- much of which is in view of the Pacific Ocean -- will be the same as last year's.
Crashing Waves?
Race organizers have yet to decide on the timing for the various waves of skaters.
"We're collecting advice from other race directors and want to ensure as smooth and fair a starting sequence as possible," Schaefer said.
"Several skaters have already emailed me with suggestions and any more feedback is appreciated. If the general consent is that last year's (starting sequence) was ideal, then we won't change it."
The first wave of inline skaters (the pro elite) will start at 6:45 a.m., 45 minutes after the cyclists and 45 minutes before the runners.
Help Anyone?
Schaefer is looking for volunteers to help with the inline race.
"I need 10 more people who can manage sections of the course," he said. "They will help direct skaters through the course and help keep those racers safe."
If you can help, call or email Mike: (562) 728-8829 ext. 4 or [email protected]
(posted on Aug. 10, 2005)