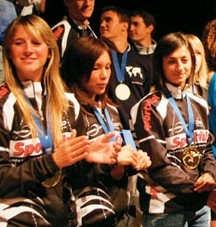 Rollerblade's Tamara Llorens (left) women, Catherine Penan and Laura Lardani at WIC awards ceremony in Berlin.
Photo: Coni Altherr
Who Was Who and Who Did What ... in the 2007 World Inline Cup
WIC Women
(Bill uses this week's column to finish up his wrap-up of the 2007 World Inline Cup.)
Number 1 - LAURA LARDANI
The 24-year-old Italian kept on keeping on in 2007, winning four races and the team time trial on her way to her second straight individual World Cup title. In the role of designated finisher, she led the Sportvital-Rollerblade squad to its third straight team title. Lardani doesn't stand out in the crowd but manages to get to the right place when it counts.
Number 2 - SANDRA GOMEZ

The Spanish veteran won two races this year and established a formidable finishing partnership with Alessi-Powerslide teammate Giovanna Turchiarelli. While not prominent in the tough going, Gomez had a fast finish and was helped by the excellent setup work of her teammates. She led the individual rankings (by four points) heading into the final event. But a strong Rollerblade effort in Berlin pushed Lardani past her. (Final score: Lardani, 1239; Gomez, 1200). Nonetheless, it was a great season for Gomez.
Number 3 - GIOVANNA TURCHIARELLI
Turchiarelli was the star of the early and middle parts of the season. But after winning three races, she injured her ankle at the World Championships. That kept her out of the last two World Cup events and spoiled her shot at the individual title. Turchiarelli is big, strong and fast. In the past, she has been relegated to the role of work horse. It was good to see her finally get the recognition she deserves. One consolation for her this year was winning the European marathon title.
Number 4 - NICOLE BEGG
The 20-year-old Kiwi (my daughter) started the season as one of the favorites. But things didn't go as planned. Some of the perceived strengths of her team (SsangYong Jesa Bont) failed to materialize. In addition, she dealt with some disruptive sponsorship issues. Nonetheless, she won two races, performing well on tricky and tough courses. She had better luck at the World Championships, where she won three medals (including one gold) and the overall track title. She is one of the few WIC women who try to make a race out of each event.
Number 5 - TAMARA LLORENS
For the past few seasons, the 26-year-old Argentinean has been a great asset to the Rollerblade women in the role of work horse. But this year, she had more speed than ever and was capable not only in the hard yards but in the finishing zone. Though she pulled up just short of an individual win, she shared in Rollerblade's victory in the team time trial and finished second in three events.
Number 6 - JANA GEGNER

The 22-year-old German skater got off to a strong start, winning the season's third event, the Rennes World Inline Cup. She was also on the podium in Zurich and St. Moritz. But her season lost some traction when Zepto teammate Nele Armee was injured. Armee had been effective at setting up Gegner in the sprint. Her absence cost Gegner points. But it was still a fine season for Gegner. Her performance in the WIC — coupled with her victory in the marathon at the European Championships — elevated her to the top echelon of women skaters.
Number 7 - CATHERINE PENAN

The 18-year-old Chilean champion had a solid rookie year in the WIC. She was second at Mainz and a member of the winning time trial team (Sportvital-Rollerblade). Not being "the star" was new for her after winning three junior gold medals at the 2006 World Championships. But any doubts about her ability were put to rest in Biel, where she showed her strength in the breakaway and tried to steal victory in the long sprint in the finish. In this year's World Championships, her first as a senior, she was unable to win a medal. But she was very competitive and will no doubt be stronger in 2008.
Number 8 - MICHAELA NEULING
The 23-year-old German skater — another of Rollerblade's engine-room workers — posted a solid season. She made the podium in the Coni X Race in Berlin and had a number of fourth and fifth place finishes. She could always be relied upon on home soil. She failed to make the German national team this year and that allowed her to focus a bit more on the World Cup and her job of getting team leader, Laura Lardani, over the line first.
Number 9 - NADINE GLOOR
The 23-year-old Swiss skater finished third in both Zug and Mainz and helped her team (Athleticum Rollerblade) secure second place in the time trial event. She was quiet in bunch action this year and did not play to her strengths. But she got involved in breakaways in both Mainz and Berlin at the end of the season. A very experienced skater — she was the first Swiss skater to win a World Championship — she always carries a high level of fitness.
Number 10 - GHIZLANE SAMIR

The exotic 30-year-old broke new ground this year as the first Moroccan skater to compete in the World Championships. However, the SsangYong Jesa Bont skater was not as much of a player this year in the World Inline Cup. She was less aggressive on attacks and in chases, and finished in the top 10 on only three occasions. A technical change seemed to stifle her and made it difficult for those around her.
Number 11 - NATHALIE BARBOTIN
Based on results alone, you might conclude that it was a poor season for the 32-year-old French skater. She made it to the podium only once — and that was in the lightly contested Coni X race, which coincided with Worlds and only drew five of the WIC ladies. But if you ask Barbotin about her season, she's all smiles. She knows she played a big part in the success of Alessi Powerslide, which collected five first and six second place finishes. It was Barbotin's job to setup the team's sprinters (Gomez and Turchiarelli), and she is enjoying the success she helped create.
Number 12 - INDIA KUHN
Big things were expected from the 18-year-old Swiss skater. But she had to play second fiddle to her more experienced teammates. She and Nadine Gloor secured the second place finish for Athleticum Rollerblade in the time trial in Basel. But aside from that, Kuhn only managed to squeeze into the top ten once (in her home territory of Zug). Next year may be different. Kuhn is big and strong and likely to improve with experience.
Number 13 - TINA STRUVER
New to WIC team racing, the 22-year-old German skater was tentative at the beginning of the season, as she recovered from knee surgery. But she improved as the season went on. She did not finish in the top ten, except in the Coni X race. But she proved to be a solid team player for SsanyYong Jesa Bont and will no doubt benefit from her experience this year.
Number 14 - HILDE GOOVAERTS
The 32-year-old Belgian saved her best for last, winning the final event of the season (the Berlin Marathon) to claim her first WIC victory. She also showed good form early in the season, finishing fourth in the tough, wet Rennes marathon. Goovaerts was the 1995 World women's marathon champion. In an interview, she said she is happy with life at present and enjoying her skating. Let's hope she continues to do so.
Number 15 - ANDREA GONZALES
The 11-time world champion was unable to get her sprint going this year, both in the WIC and at the World Championships. After a year away from the World Cup due to personal problems, the Argentinean struggled to find her old form.
Number 16 - NATALIA ARTERO
In her first year in the WIC, the World Inline Center skater was strong and chased a number of breaks. But she never stayed with them, thus costing herself a spot on the podium. (The same can be said of her fellow Argentinean Melissa Bonnet, who finished 31st.
Number 17 - NACHI SHINOZUKA
Skating for World Inline Center, Shinozuka was the first Japanese skater to race in the WIC. She was in a vital breakaway in Dijon with two of the top women, Llorens and Begg. They eventually dropped her but nonetheless, she collected a well-earned third place for her effort.
Number 18 - ANDREA HARITCHELHAR
The 29-year-old Argentinean had a bad accident in the pre-season and was fortunate not to have an arm amputated. This seemed to shake her confidence and she never returned to top form. Hopefully, this fleet-footed skater can overcome the physical and mental scars and have a better season next year.
Number 19 - LIVIA MEIER
The 21-year-old skater managed one top 10 finish (at Dijon) and was one of the top performing Swiss women. But she's capable of more. Her team, Schankel World, was racing on new equipment and didn't perform to the best of its ability. But Meier's ranking in the top 20 overall keeps the team's dreams alive.
Number 20 - FRANZISKA STAMPFLI
The 26-year-old Swiss skater is a middle of the race runner. She lacks the vital element of speed but has been a consistent Rollerblade skater for years. Her only trip to the podium this year was as a member of the Athleticum-Rollerblade team that finished second in the time trial.
Brittany Bowe and Jessica Smith (Hyper USA) came to one event, (Seoul) and won it!
Two of Colombia's top world champion women arrived in Europe for the last two events in Germany, but surprisingly failed to reach the podium in either race.
Young Lioness
Former junior world silver medalist Martina Taruscia (Henniez) showed a lot of potential. With no team support, she bridged the gap in Biel to finish sixth.
Cross-Dressing
A bit on the naughty side was the team that stretched the rules by dressing one of its skaters in the number of a sidelined teammate. ... Some will go to any lengths to win. No doubt the situation will be monitored more closely in 2008.
...
• Ask Bill a question!
• Go to the Ask Bill Begg! Archive
• Skate Tip of the Week Archive.
• Beginners Guide to Outdoor Racing.
• Beginners Guide to Inline Skating.
...
Copyright © 2007 by Robert Burnson