Skate Adventure:
Back to Africa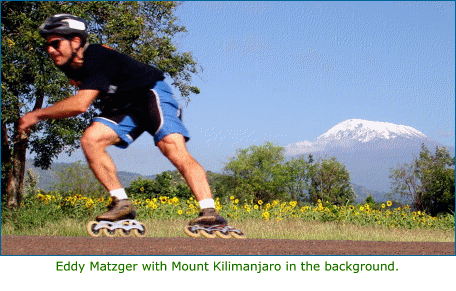 Matzger returns to scene of earlier triumph: Kilimanjaro

(Editor's Note: In 1998, Eddy Matzger and buddy Dave Cooper became the first — and only? — people to ever skate to the summit of Mount Kilimanjaro.)
Almost nine years to the day after reaching the rooftop of Africa with wheels under my feet, I found myself skating the fabled slopes of Mount Kilimanjaro once again. My friend Simon Mtuy, a guide on the mountain, had been trying for years to get me to come back. Now there was a compelling reason to return: he was getting married.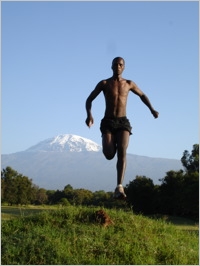 Simon Mtuy
I met Simon in 1998 as I came hurtling down the mountain, periodically yelling "No brakes!" in order to scatter those who were in my way coming up. Simon is as tall as a giraffe and fierce like a rhino; a Chagga warrior whose path you wouldn't want to cross unless you knew that deep down he doesn't have a mean bone in his body. Over the years I've been one of Simon's steady training partners; once I paced him for the last 30 miles of the Western States 100 Mile race from Squaw Valley to Auburn, CA. Even with 70 miles already in his legs, I could barely keep up with him.
Tying the knot would prove to be another test of stamina. Instead of one ceremony, Simon and bride Tara Daley had three events spread out over four days (not unlike the marathon Indian wedding I once attended).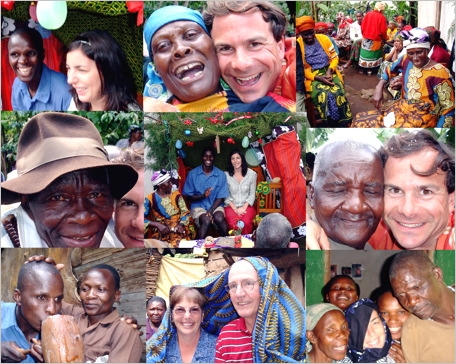 The church wedding took place in Simon's village of Mbahe, which only recently was connected to the outside world via a bridge. All the guests had to walk a couple of miles to get there, escorted by playful kids the whole way. The service seemed a little formal and awkward, but the choir livened it up a lot and put people at ease. Their voices dripped with honey and they swayed back and forth in unison as they belted out tunes. There was a big meal afterwards with homegrown food from Simon's farm — corn, beans, many fresh veggies, soups and stews.
The civic wedding took place on the remote Western side of Kilimanjaro at Simba Farm, a large-scale seed plantation that Simon has encouraged to become a bed and breakfast for climbers as well. It is accessible only by four-wheel drive on rutted, washed out roads that can swallow buses whole. But it was worth the trip for its jaw-dropping scenery, overlooking a vast plain containing Mount Meru, a sister volcano to Kilimanjaro. Guests were both shocked and fascinated by the suggestive gyrations of a band from Zanzibar.
The village wedding at Simon's house was intimate, emotional and meaningful. It was the one that counted for his parents. They gave Simon away and reminded him of his responsibilities as a married man. The whole village showed up, occupying every available spot under bushes, in trees, and alongside cows and chickens. Nine brothers and sisters led the couple to their decorated bridal hut while whooping and singing.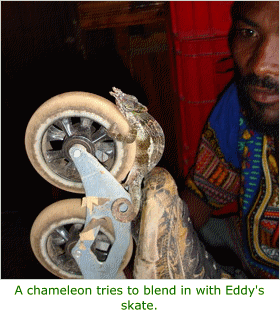 "Lay lay lay lay lay lay lay lay!" the women shouted to express their congratulations. Simon's father spent the previous few days making banana beer and proceeded to dole it out to all the assembled guests in mugs made from gourds.
Everybody needed a few days to recover from the festivities, which is exactly when my skate adventures began.
On the way back to Moshi I skated down the mountain from Simon's village, defying death at every turn and dropping 3,000 feet in just under half an hour! Simon and Tara and her parents followed me down in the Land Rover and nearly chewed their nails down to the bone watching me. I had to apply the brakes heavily with the only effective method I know: the front t-stop. When I squatted low enough in a downhill tuck position, centered my weight over a gliding skate and extended my leg out directly in front of me -- wheels perpendicular to my direction of travel -- I could get my skate to slide, reducing my speed considerably. What a dangerous dance! Just standing up to switch sides caused me to reach runaway-truck speed. A sure way to turn heads. In between being worried sick about my well being, my friends in the car were vastly entertained by all the turning heads and finger pointing. Out of my peripheral vision I could see kids running madly to the side of the road to catch a glimpse of me screaming by. And scream I did.
I stuffed myself into the Land Rover at the bottom of the hill, but the ride wouldn't last for long. The beast was burning oil, and not 10 miles down the road, the engine lost all torque and started revving at over 6000 rpm. Tara pulled the key out of the ignition but it wouldn't stop. Everybody panicked and evacuated the car as if it were going to blow up, leaving me wedged in back with the luggage. I managed to crawl into the driver's seat, put the car back into 4WD and pop the clutch, mercifully stopping the engine. The dipstick was dry as a bone. Now we were stranded on the steppe, with barely even an acacia tree to provide shade, at the mercy of lions and wildebeasts. Thank heavens for skates, however. I laced them up and rolled down the highway to the nearest filling station to buy some oil. Fortified with four quarts, the motor started up and we were able to limp into town.
Skating in Moshi town is a little like a zebra trying to take cover in a pack of horses: it's impossible to escape unnoticed. I would skate from Simon's office to the market and the whole town would light up. Then I would head out the highway to the orphanage to spend some time with the babies. Being such a novelty meant that cars and trucks treated me with utmost respect,slowing to look at the crazy "misungu" (white person) with the "flying shoes."
On the last day of my stay, I skated the 60K back to Mbahe for a final dip in the swimming hole at Simon's farm and to say goodbye to Simon's parents. At dawn I had the whole highway to myself. Kilimanjaro and her sister peak Mawensi watched over me, forming a surreal backdrop. Here I was, three degrees south of the equator, with two giant snow cones just over my shoulder.
It took only an hour and a half to put the first 40K behind me. The last 20 (uphill) was a different story. It took three and a half hours, a gallon and a half of water, four cupcakes, and a couple of sodas. Finally, I reached the swimming hole and dove into the breathtakingly cold water.
I did a quick calculation of the day's journey. I had paid nothing for bus fare, but had spent more time and money doing it my way.
Oh well, I'd make up for it on the way back.
Eddy Matzger is one of the winningest skaters in the history of inline racing and leader of the popular SkateFarm workshops.
...
Copyright © 2007 by Robert Burnson