Skate Adventure:
Skating Ancient Xi'an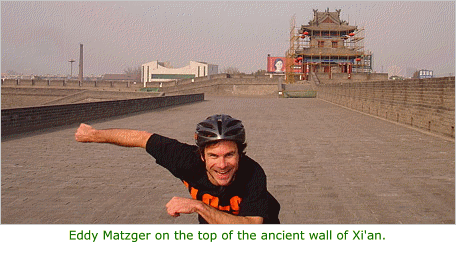 Eddy finds another 'Great Wall' in China

I live for inline adventure, and China is my favorite new place to get my fix. Cars are still a minority form of transportation, so it's easy and safe to join the mix of bikes, scooters and carts, and quickly be up to your ears in new friends and beautiful sights.
Watch Eddy's Xi'an video.
After getting to know the ins and outs of skating in Shanghai, which I visit regularly, I was hungry to discover the silk-road city of Xi'an (prounounced She-an).
Xi'an means "Western Peace" and was the ancient capital of the Chinese empire. It is the home of the astounding terra cotta warriors, which were unearthed by a local farmer digging a well in 1974.
I had secretly planned to jump into the pit with the warriors and skate among them. But I was too awestruck by the tombs to do anything irreverent. And besides, I didn't want to share the same fate as either the terra cotta artisans (buried alive to preserve their secret) or the recent German tourist (visa revoked for jumping into the pit and standing at attention with the warriors).
Xi'an's ancient wall is the most complete ancient city fortification in the world. It boggled my mind even more than the Great Wall had in 1995.
Of towering height and impressive girth (40 feet tall, 45 feet wide and 14 kilometers around), it is crenelated like a castle and made inpenetrable by a moat, (deep and wide, but not full of alligators).
In the first few centuries A.D., fully two million people had lived inside the wall's 30 square miles. It is said that Xi'an rivaled and even surpassed Bagdad, Constantinople and Rome as the greatest metropolis of its day.
I decided first to circumnavigate the old city wall. A bike lane continuously hugs the exterior of the moat, interrupted only by the eight or so gates which breach the wall to give access to the old city. In between racing past electric scooters and helping bicycle trishaw riders push their huge loads of produce, I had a big thrill skating over drawbridges and in and out of the gates with the constant flow of cars, buses and cyclists.
That night, back inside the walls, with a belly full of savory Mongolian food, I wandered past mosques and churches, temples, pagodas and lighted fountains. I was aglow with the certainty that inline skating fits perfectly into the culture of modern China.
The next morning I wove my way through a tai-chi class and pushed open a heavy wooden gate to a stone stairway. I vaulted the steps two at a time and suddenly found myself atop a great wall. I wasn't prepared for the feeling of protection and tranquility on top compared with the mad rush below. Looking down unnoticed, I was reminded how often we forget to look up.
The top was a world apart. It seemed closer to the sky than the earth. I rolled from gate tower to gate tower, past parapets and ramparts. Fleetingly, as a tiny skating speck rounding a corner, I could stare down a stretch of interior wall all the way to infinity (watch the video to see what I mean).
Smooth sections of wall-top allowed me to become a skate-powered missile like Joey Cheek. But badly worn portions brought me back to reality. Instead of flying, it became more like skate-cross. I used hot-potato pushes and plenty of alternate crossovers to thread the needle of level stone; sometimes I needed the full 45 feet of width to snake my way through the pock-marks.
As I rounded the final corner of the wall, a sleepy worker stumbled out of his tent and was snapped awake by the sight of a skater picking his way across the ancient pavement. His big smile and energetic thumbs-up stand tall in my trophy cabinet of inline adventure memories.
Eddy Matzger is one of the winningest skaters in the history of inline racing and leader of the popular SkateFarm workshops.
...
Copyright © 2007 by Robert Burnson