Racing News:
New York 100K Resurrection
Organizers breathe new life into revived event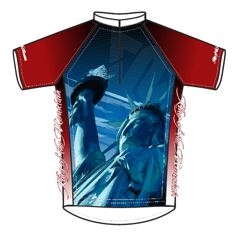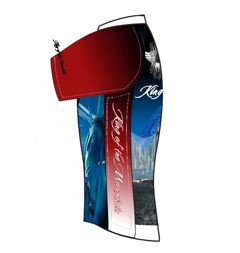 King of the Mountain - K2 design for jersey that will be awarded the winners of the King of the Mountain Challenge.
Resurrecting an event after it skips a beat isn't easy — at least that's what the organizers of the New York 100K are finding out.
In its heyday, the 15-year-old event (which includes the NYC Skate Marathon) drew 400 to 500 skaters a year to Brooklyn's Prospect Park and enjoyed a reputation as one of the best ultra marathons in the world.
But last year, the event was canceled due to organizational problems. And now this year, with only three weeks to go before the race, only 65 skaters have signed up.
Organizers expect the number to reach 200 by race day (Aug. 26). But they would like to see more and, in an effort to revive the event, are trying a few new things this year.
King of the Hill
Perhaps the most exciting of these is the new King of the Hill Challenge, which was inspired by the King of the Mountains competition of the Tour de France.
The challenge will award points to the first five men and women to reach the top of the long hill on the road course: five points for first; four for second, etc.
Points will be recorded on each of 100K's 19 laps. The man and woman who finishes with the most points will be crowned King (and presumably, Queen) of the Hill.
The winners will take home trophies and wear special King of the Hill jerseys, which have been designed by K2, the event sponsor.
"Thanks to the King of the Hill, we are going to have some really exciting racing," said Francisco Ramirez, one of the event's organizers.
Cash for Speed
Organizers are also spicing up the event by offering a $300 cash prize to anyone who can break the course record.
The current men's record belongs to Philippe Boulard of France. Boulard skated the 100K in 2 hours, 55 minutes and 55 seconds in 1998. That's roughly 34 km/hr, or 21.7 mph.
The women's record belongs to Briggyte Mendez of Colombia. She skated the course in 3:21 in 2004.
So far, few elite skaters have entered the race. Some who might have raced are skipping the event to rest up for the World Speed Skating Championships, which start a week later in South Korea.
Among those pre-registered are the members of a French skate team and about a dozen other Europeans, said organizer Marcia Woodfield.
Also expected is Twincam's Eddy Matzger, who won the last edition of the race in 2004.
Latest headlines:
• Send the Best Rakes It In
• World Records Fall in Europe.
• How to Hawk.
• Prois Photos of Hoyt Lakes
• Skating in the Heat
• How to Choose the Right Size Wheels
• Records Tumble at Indoor Nationals
• Soul Slide Meets Fatty