Racing news:
World Records Fall At European Championships
Frenchman bests 10-year-old Hedrick mark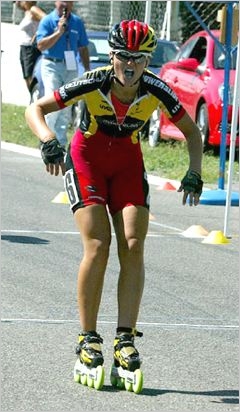 Jana Gegner, 21, of Germany set a new world mark in the 10,000 meter points race in Cassano d'Adda, Italy.
Four world speed skating records, including a 10-year-old mark by Chad Hedrick, tumbled during last week's European Speed Skating Championships in Italy.
The new world records suggest that the Europeans will be strong at next month's World Championships in South Korea. They also appear to provide evidence that the use of bigger wheels is leading to faster times.
The New Records (unofficial):
Men's 10,000 Meters Point Race
Time - 14:18.540
Yann Guyander, 22, France
Old mark - 14:25.510
Chad Hedrick, 1996
Women's 10,000 Meters Point Race
Time - 15:37.080
Jana Gegner, 21, Germany
Old mark - 16:36.140
Sheila Herrero, 1999
Women's 20,000 Points Elimination
Time - 33:04.540
Angele Vaudan, 25, France
Old mark - 33:19.570
Adelia Marra, 2003
Women's 500 Meters (Road)
Time - 44.283
Erika Zanetti, 24, Italy
Old mark - 44.780
Cecilia Baena, 2000
Technological Boost?
Most of the racers at the championships were skating on 100mm wheels, which are the largest allowed under international (FIRS) rules.
In addition to 100mm wheels, Gegner was skating on Bont's new 3-point Vaypor boots with magnesium S-frames. The frames attach to the boot at three, rather than the standard two, points. This, Bont says, allows for the use of less carbon in the boots, thus making them lighter.

Latest headlines:
• How to Hawk.
• Prois Photos of Hoyt Lakes
• Skating in the Heat
• How to Choose the Right Size Wheels
• Records Tumble at Indoor Nationals
• Soul Slide Meets Fatty
• Bigger Big Wheels From K2