Freestyle
Naomi Grigg's Intro to Freestyle Skating
So what the hell is all this 'Freestyle' nonsense?
(page 2 of 2)
Enter the French Skate Gods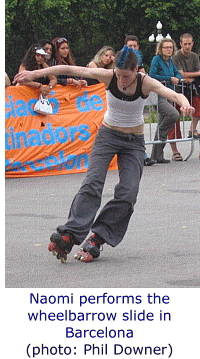 Nous, le français, actuel à vous FREESTYLE SLALOM!
One by one, French skater after French skater came to Hyde Park in London and weaved their feet and their legs into knots around lines of cones on the ground and were fancied rotten by all who saw them. Crowds would gather, eyes would be transfixed, jaws would drop. I would weep. No longer was I the grand respected freestyler that I once was. (Dumb cones ... what's the point of that!?)
But one time, when no one was looking, I tried the cones. (The first trick I learned was the crazy, one of the most basic freestyle tricks. But to an onlooker you're a God.) I was hooked.
The learning curve was the same as with anything else you do on skates. But the feeling of success with every small improvement was like crack cocaine to a 10-year addict ... like new love to a teenager. Within weeks I was getting up an hour before work, doing hours after work, and lying to my boyfriend about where I was and what I was doing. (Lying about skating? ... Oh my God. What's going on here???)
And you're right, and I was right: it's a dumb thing to do. But somehow it gripped me ... and it's gripped most other people who have tried it.
The Russians started training like Russians do; the Koreans & Chinese are busy humiliating us and the French; and the Singaporeans are getting far too good and dedicated for my own personal comfort.
The skate scene in Barcelona has completely transformed in the last two years because of freestyle slalom, and even the Dutch, Germans, Slovenians are at it. Australia is just starting out, and that brings me to the U.S. ...
U.S. Invasion?
No way, I thought. The Americans are into aggressive skating and speed skating. They don't do freestyle.
But how wrong was I? I was asked to hold a workshop in Seattle last year, and do some teaching in Washington D.C. And it was amazing! The course was overbooked! But alas, I thought, they won't enjoy it. It's just not their thing.
At this point, you might think I was fed up with being proven wrong, but I was blown away with delight when their pupils started dilating as they succeeded with the moves.
By the end of the weekend, I was being booked to go back and put on longer and more courses. It was like giving a lick of chocolate to a small child and then saving the rest for next year. A little cruel, but with the videos on the net at the moment, everyone has access to the moves. It's just a matter of figuring out how to do them that might be a little time consuming.
So where does it go from here?
I honestly think it's going to have the same effect on skating in the U.S. as it has every where else. It's going to grow like a rash, inspiring people into skating that would never have before considered it. It will create a whole new advert for skating in the U.S., combining socially acceptable with cool.
The interest in the states has quadrupled since last year (Note: 79 percent of statistics are made up on the spot), and I can really see the Rollerblade Twisters (designed for slalom) bleeding off the shelves.
My advice to you all is try it. Try it once just to see if you turn in to a crazed animal ... or if, quite rightly, you find yourself sneering at such a ludicrous pastime.
You don't have to get a lesson. I've recently added a new tutorial for the Crazy to my website. You can do it in your own garage so no one needs to know.
Related reading
• Go to Naomi's freestyle site.
• Go the Planet's freestyle section.
• Go to Naomi Grigg video.)

Naomi Grigg's well travelled Introduction to Freestyle is a 6-hour weekend course planned (so far) for Singapore, Malaysia, Seattle, Detroit, Sydney, Melbourne, as well as European locations for 2006. If you would like to attend any of those workshops, or see one happen in your own country/state, find out more and contact Naomi via her web site.