Freestyle > Naomi Grigg
Naomi Goes Crazy in Singapore
Freestyle champ shows off her moves
By Planet staff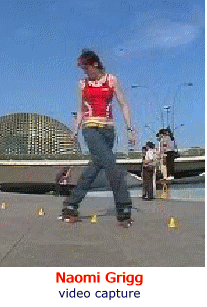 We've been asking English freestyle champ Naomi Grigg to send us some video ever since we posted her Intro to Freestyle article in February. It finally arrived yesterday, and we're happy to report that it was worth the wait! Cone weaving, leg pretzels and assorted Crazies — it's all here. ... Now if only we could just figure out how she does it!

Watch/Download Video 4:45 min. 19.5 MB
(Opens with Windows Media Player)
Related reading
• Go to story: Into to Freestyle.
(Posted on April 18, 2006)