This week's tip:
Getting in Shape with Inline Skating
How to start your inline skating fitness program

By
Shannon Valerio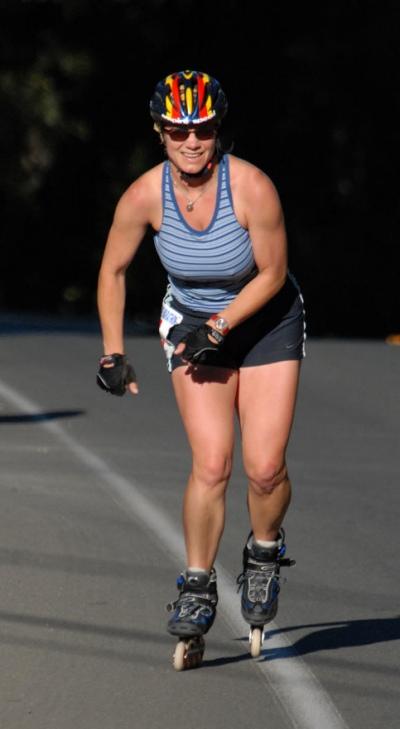 Skating the Silverado Trail
Photo: Darlene Prois
Inline skating is a great way to get in shape — even if you haven't exercised for years.
It's a powerful calorie burner, it builds strength and conditioning, and it's naturally fun, so you won't burn out.
If you are ready to give it a try, here's how to get rolling with your own inline skating fitness program:
1) Get accustomed to your skates.
After a period of inactivity, the secret of starting an exercise program is to go slow. Don't do too much, too fast. Otherwise, you could hurt yourself or burn out.
If you are a new skater, or if you feel the need for a refresher course, sign up for a lesson with a qualified skate instructor. (You can find an instructor on the Skate IA website.)
If you plan to learn on your own, start with some carpet or grass skating. It's easy. Just put on your skates and walk around on a carpeted floor or mowed lawn.
This will teach you balance and strengthen your ankles. Do lots of this — as much as you need to get fully comfortable on your skates.
2) Start rolling.
After you've mastered carpet skating, you are ready for the pavement. Find a sidewalk or parking lot that is smooth and completely flat or go to your local roller rink.
Put on your skates and all your protective gear. Now stand up and experience the sensation of rolling. Keep your knees bent and your hands in front of your body. If you fall, land on your pads.
Now learn the basics: pushing to the side, turning and, most importantly, braking. (Read Kathy McSparran's guide to the heel stop.)
3) Hit the trail.
Once you know the basics, you are ready to roll. Find yourself a nice flat bike trail or residential neighborhood with no traffic.
Start skating. Maintain an easy pace. Go slowly enough that you could carry on a conversation without huffing and puffing.
Don't push yourself. Take it easy and quit immediately if you start to develop hot spots or blisters on your feet.
Now take a day off.
Give yourself a full 48 hours to recover. Then go for another easy skate.
Repeat this pattern until you become confident on your skates and can skate comfortably for 45 minutes to an hour.
This could take several weeks. How long depends on a number of factors, including your level of conditioning and your weight.
Be patient. Take all the time you need. You may not feel like you are making any progress. But within a few weeks, you will start to feel stronger.
Use this time to work on your basic skills. Read the Skate Tips of the Week to find ways to polish your technique. Practice braking — there are multiple methods — every time you go out.
4) Up the ante.
When you can skate comfortably — and safely — for an hour, you are ready for more. Add a few more days of skating to your weekly schedule. Or use your off-skate days for running, cycling or weight-lifting.
And raise the intensity of your workouts by adding interval training or fartleks. You can do as many as three interval workouts a week. But be sure to give yourself 48 hours of recovery between them so your body can recuperate.
5) Keep
going

!

You're on to something. And you know it.

If you have made it this far, you are already feeling better, looking better and, probably, enjoying life more.

So give yourself a treat or pat on the back. And say hello to the new, healthier you.

...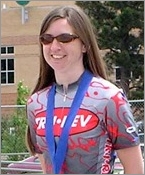 Shannon Valerio has been a competitive athlete since she was 8 years old and has competed on both quads and inlines and in short track speed skating, ice hockey and road cycling. An accomplished Master's inline speed skater, she has 14 national titles in indoors, banked track and road, and holds two national records. She has also placed in several marathons and is now both skating and cycling with the Riivo/Salt Creek Consultants Team. She is a certified strength and conditioning coach and personal trainer for Valerio Training, a company she founded in 2009.