Cross-Training With Bad Knees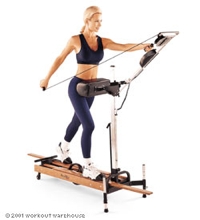 Hi, Bill: As an older skater, I have to be selective with my training due to chronic knee problems. I go easy on plyometrics and avoid biking altogether. I cross train on a Nordic track cross country ski machine that allows me to assume the skater position and adjust tension and elevation. My endurance is great. But I lack foot speed. People encourage me to get on a bike. But I am wary of this due to my knee problems. Can a skater get sufficient cross-training from a ski machine or is a bike more beneficial? (I have included a pic of the ski machine I use. ... No, that is not me. LOL)
Hi, Amy: For skaters with knee problems, I usually advise weight-supported training, such as cycling or swimming. In my opinion, a ski machine would strain your knees more than either of these.
Cycling is a good match for skaters. The two sports are similar in many respects, and many top skaters — about 90 percent — use cycling for cross-training and even find success in cycling competitions. For instance, a couple of weeks ago, Theresa Cliff-Ryan finished second in a World Cup cycling race in Australia. As you may remember, Cliff-Ryan was a world champion US inline speed skater before switching to cycling a few years ago.
Another option for off-season training for skaters is the slideboard. It provides a sports-specific workout because the motion used on the slideboard mimics skating. But slideboard may be too hard on your knees. So my recommendation would be to stick to cycling.
As for the Nordic Track, it may give you a good aerobic workout, but it is quite different from skating. The foot movement in Nordic skiing is straight ahead, more like walking, whereas the movement in speed skating involves a direct push to the side and a transfer of body weight across the support leg. The only similarity between skating and Nordic skiiing is the the low body position.
As for leg speed, you are either born with fast twitch muscles or not. But in outdoor skating, foot speed is really not that important. After the start of a race, maintaining a high cruising speed has little to do with how fast your legs are. More important are the technical elements of your skating: high back arm swing, fully extended side push, and transfer of body weight. The American Bobby Kaiser didn't have fast foot speed, but that didn't stop him from becoming a champion.
Cheers, Bill
• Ask Bill a question
• Go to the Ask Bill Begg! Archive
• Skate Tip of the Week Archive
• Beginners Guide to Outdoor Racing
• Beginners Guide to Inline Skating
...
Copyright © 2009 by Inline Planet