Racing News:
Talley, McCormick Win Silver Strand Half Marathon
Brian Talley waits 'till the end to make his move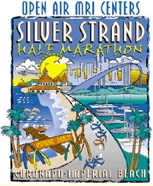 It was hurry-up and slow-down Sunday for the lead pack of the 2006 Silver Strand Half Marathon.
Most of the racers did not seem eager to pull at the front of the pack. So that left much of the work to the Bont North American team (Norm Kirby, Jordan Nelson and Jake Sawyer) with some help from Wolf Racing team leader Scott Wolf and Team Oklahoma's Rob Bell.
When the leaders got tired and tried to get someone else to take a pull, the pace slowed to a crawl.
During the breakaways, the leaders reached speeds of about 27 mph, said Glenn Koshi, who drove the pace car. But during the lulls, the speed dropped to as low as 16 mph.
On the final half mile of the race, Wolf Racing's Brian Talley, a member of last year's World Marathon Team, took over the lead.
Jordan Nelson tried to get around him, but before he could, the racecourse narrowed and the race announcer (strangely!) asked the skaters to slow down, even though they had yet to reach the finish line.
Talley finished a second ahead of Nelson. Jake Sawyer was third.
The winning time was 38 minutes and 11 seconds.
Due to the accordion-like rhythm of the race, the pace was about 20 seconds slower than last year, when Nelson won in a time of 37:50.
Wolf Racing's Skylar McCormick won the women's race. The 16-year-old Junior World Team member finished with the lead men's pack just ahead of Bont's Debbie Rice of Bont North America and Mechele Busby.
McCormick's time was 38 minutes and 12 seconds, a new women's course record. (The old record was 40 minutes and change, set last year by Jilleanne Rookard.)
In all, 224 skaters participated in the race. That represents a small increase over last year's total of about 200.
Top women
Skylar McCormick, (age) 16, (time) 38:12
Debbie Rice
Mechele Busby
Top 3 men
Brian Talley, 17, 38:10
Jordan Nelson, 26, 38:11
Jake Sawyer, 22, 38:11
Related link:
• Complete Silver Strand results
...
Copyright © 2006 by Robert Burnson