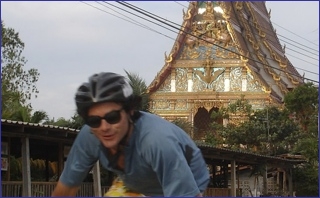 Eddy Matzger skates past a wat (temple).
At 41, I suppose I'm a little long in the tooth to be a professional athlete, but that doesn't stop me from working diligently to stay up with the young bucks. I had some great results in 2008, but I know I'm only as good as my last race. That's why I decided to launch my training for the 2009 competitive season in Thailand with the hopes of making it another memorable year.
Friends told me that my vow to treat a Thai vacation like a training camp was unrealistic. They told me I'd succumb to the temptations of the night and lay around on the beaches all day, but they don't know me. I belonged to the 1 percent of visitors who didn't come to party, instead getting up before dawn and spending copious amounts of energy working out. By late morning I'd be dying for a proper Thai massage, and afterwards I could afford to be a glutton for all the fresh fruit and fish and sticky rice and spicy papaya salad a man could possibly eat. By 1 or 2 pm, when most tourists were clearing the cobwebs and just getting going, I was tuckered out and ripe for a nap.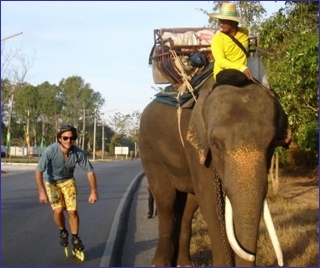 Eddy and elephant in Pattaya.
While my hometown of Floyd, VA was suffering from record-breaking cold, I embarked on ultra marathon training sessions in shorts and t-shirts. I had to chuckle when it was a balmy 70 degrees outside and yet everybody was bundled up with scarves and mittens.
Either solo or with cyclists from the BMW Thailand bike team, I regularly found myself skating smooth country roads, touring the extensive grounds of numerous temples, or flying by attractions like the Chi Jan Hill Carved Buddha Image. With so much eye candy out there, it's easy to get a great work out without even realizing it.
In spite of the Thai penchant for driving aggressively, I was grateful how vehicles gave me a wide berth and drivers extended arms out of windows with thumbs up. Inline skating is so new and unusual here that I was lucky to get a lot of interest and respect on the road, such that I even had personal truck escorts for long stretches sometimes. And the energizing quality of the legendary Thai smile is profound. I must have internalized the wattage from thousands of brilliant roadside smiles to power my long journeys.
(Postscript: I hope to return to Pattaya in April and work with the Pattaya Rotary Club Marina on an inline challenge benefit to raise money for the community. For a small donation, you can challenge me to a bike vs. skate race. Beat me and I'll donate a hefty sum to charity!)
...
• Eddy's Thailand Photo Gallery
...
Copyright © 2009 by Inline Planet