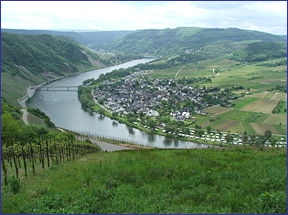 The Mosel River near Wolf
Zephyr Adventures has something new for skaters in 2008: two border-hopping tours of the fabulous Mosel River Valley in Europe.
"We skate from Thionville in France and continue along the Mosel River for seven days," says Zephyr founder Allan Wright. "We spend one night in Luxembourg and end up in Koblenz, Germany, at the confluence of the Mosel and the Rhine."
Participants will skate bike paths that flank both sides of the Mosel as it makes its way down the green valley dotted with castles, ancient villages and vineyards.
The tours will start on July 13 and July 20.
Zephyr's 2008 Tours
Netherlands Fitness / June 21-27, 2008 / $2050

Mosel Valley / July 13-19 and July 20-26, 2008 / $2050

Idaho / August 3-7, 2008 / $1550

Quebec & Montreal / August 17-22, 2008 / $1800

Florida / December 6-10, 2008 / $1500
Skate Camps:
Hilton Head Skate Camp / May 17-21, 2008 / $1450

Florida Skate Camp / November 30 - December 4, 2008 / $1500
Zephyr
Zephyr Adventures has been part of the skating world since 1997 when it first offered inline skating tours to the Netherlands. Since then, the company has changed its name, added numerous tours and expanded to include other activities.
This year, Zephyr will be guiding its 25th skate tour of the Netherlands.
"We have sent more skaters to the Netherlands than anywhere else," Wright says.
"The country is perfect for skating with its long, flat, paved paths that crisscross the country and connect every town."
This year's Netherlands tour will be tailored for fitness skaters. "We have labeled this a 'fitness skating tour,' which simply means we expect most people to skate the medium and long routes each day," Wright said.
Zephyr provides long, medium and short distance routes on its tours to accommodate the various abilities of its clients.
Wright says intermediate level or above skaters are welcome on the Netherlands Fitness tour. (Cyclists are also welcome.)
Other Destinations
Zephyr is also offering skate tours in Idaho, Quebec and Florida in 2008. "We actually have 12 skate tour locations we can offer," says Wright. "We have so many repeat skaters we find ourselves adding about one new skate tour location each year. Since we can't run that many every year, we pick and choose what we put on the schedule."
The Original
Starting out as Zephyr Inline Skate Tours, the company was the first skate tour company in the world. Most participants are recreational skaters from North America, with a sprinkling of Europeans mixed in on most tours. Each tour is full-service and includes meals, lodging, van support and professional guides.
In 2003, Wright changed the name of the company to Zephyr Adventures. "I was traveling in China and realized it was the perfect place to run an active tour – but not good for a skate tour," says Wright. "The country is amazing, but it is so difficult to travel there on one's own that traveling with a guide makes sense."
So, Wright changed the name of the company, started running trekking trips in China and Tibet, and hasn't looked back. "We now have five divisions," Wright says. "Trekking Adventures, Family Adventures, Wine Adventures, and Self-Guided Adventures in Italy in addition to our skate tours."
The Wine Adventures are the newest offering and include active tours in seven wine regions of the world, none of them skating related. But it is the trekking adventures Wright finds most appealing. "I love traveling the world and meeting people while staying active," Wright says. "All our tours are fun but I get the biggest thrill when doing something extraordinary, like hiking the Inca Trail or trekking in Patagonia."
Still, the company is not giving up on its skating roots. "Skating is still the foundation of Zephyr Adventures," Wright says. "Inline skaters made up 75 percent of our tour participants in 2007, not even counting Camp Rollerblade students."
...
...
Copyright © 2008 by Inline Planet